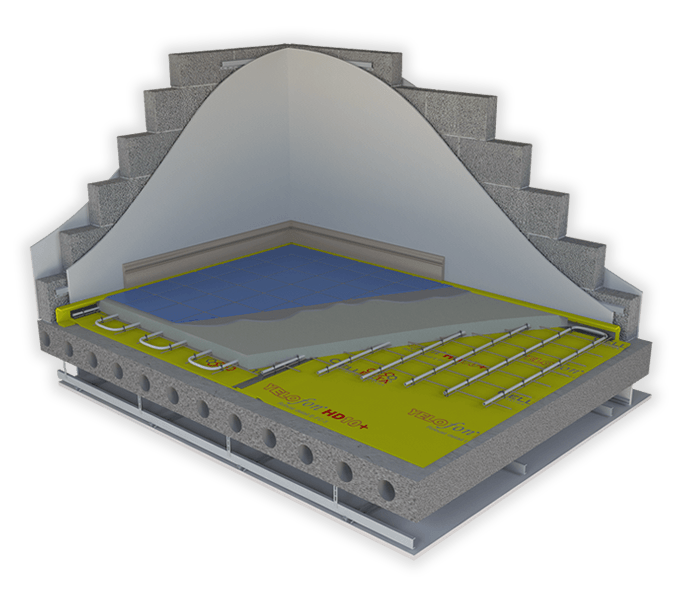 YELOFOAM HD10+ provides excellent acoustic performance as a resilient layer for under floating screeds, with its high density, non-cross linked, HCFC free polyethelene resilient layer system carrying its own proprietary robust detail E-FC-5.
Benefits
Superior impact sound deadening properties
Suitable for all types of concrete floors and screeds
Lightweight, easy to cut and install rolls
Robust detail treatment (E-FC-5)
Over 7000000m² successfully installed
YELOFOAM HD10+ delivers excellent acoustic performance, while being easy to install, allowing for a simple solution for isolating floating screeds from structural concrete floors.
YELOFOAM HD1-+ comes with three components to make a complete system, with no additional items required, allowing for maximum soundproofing performance when all components are installed, enabling compliance with E-FC-5.
YELOFOAM HD10+ Rolls - Installed directly on to the concrete floor
YELOFOAM E-Strip - Installed around the floor perimeter at the beginning of the installation to eliminate potential acoustic flanking
YELOFOAM J-Strip - Acoustic adhesive joining strip, used to combine sheets of YELOFOAM HD10+ and the surrounding E-Strip. Eliminates risk of sound leakage 
When installed correctly, the YELOFOAM HD10+ system provides a very high performance acoustic system for under screeded floors.