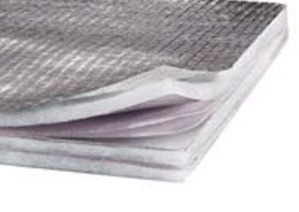 ACTIS Multifoil Insulation provides an easy insulation solution that can help with energy efficiency and saving money from heating bills. It can be applied over/under rafters, in loft conversions as well as unvonverted lofts, and in walls. It serves as an equivalent of 210mm Glasswool, while being only just 30mm. 
Benefits
Seals roof against wind and damp, whilst retaining ventilation
Retains more warmth in winter
Prevents lofts overheating in summer
Saves valuable living space 
Beams and rafters may be left exposed
 ACTIS Multifoil provides a solution for an efficient and effective insulation for living spaces. Its ease of installation allows for costs to be saved against time and labour, with the material being easily cut for fitting using scissors, or other. 
The product is made of 19 alternating layers:
2 tear-resistant reinforced reflective films
3 layers of soft, flexible wadding
8 layers of closed cell foam
6 internal reflective films
Characteristics
Thickness: 30mm
Equivalent to 210mm of traditional mineral wool insulation
Fume classification: F1 (NF 16-101)
Roll size: 1.6m x 12.6m long = 20m²
Weight 14Kg

documentation